SANO Industrial products
Sano cleaning products are real guarantee of quality. Their concentrated formula makes them more effective than other similar products.
Sano brand has a solution for every problems that may arise in household cleaning.
Our portfolio offered for Professional partners is being constantly expanded, according to our partners needs.
Sano DG 18
Dish liquid
Foaming liquid, suitable for washing dishes and general cleaning as well. pH neutral: ideal for cleaning kitchen surfaces and utensils .
Size: 4 l
Sano Clear
Windor cleaner
Multi-purpose cleaning liquid for windows, windshields, mirrors, tiles, ceramics, plastic, laminated and other surfaces. Leaves clean and shiny surface.
Size: 10 l
Sano S-255 Fresh
Floor cleaner
Scented floor cleaning concentrate suitable for regular cleaning of all types of surfaces. Cleans and deodorizes at the same time.
Size: 4 l, 10 l
Sano CR-101
Carpet cleaner
Carpet cleaner for manual cleaning and cleaning machines. Recommended for both natural and synthetic materials. It cleans, removes dirt and different types of spots. Has antistatic effect. Leaves pleasant scent and purity.
Size: 10 l
Sano DG-1 Forte
Degreaser
Hot and cold degreasing concentrate. Removes burnt-on grease, grime and dirt. Suitable for ovens, pots, pans, grills, pans, stoves, industrial fryers, tile surfaces, etc. cleaning.
Size: 4 l
Product range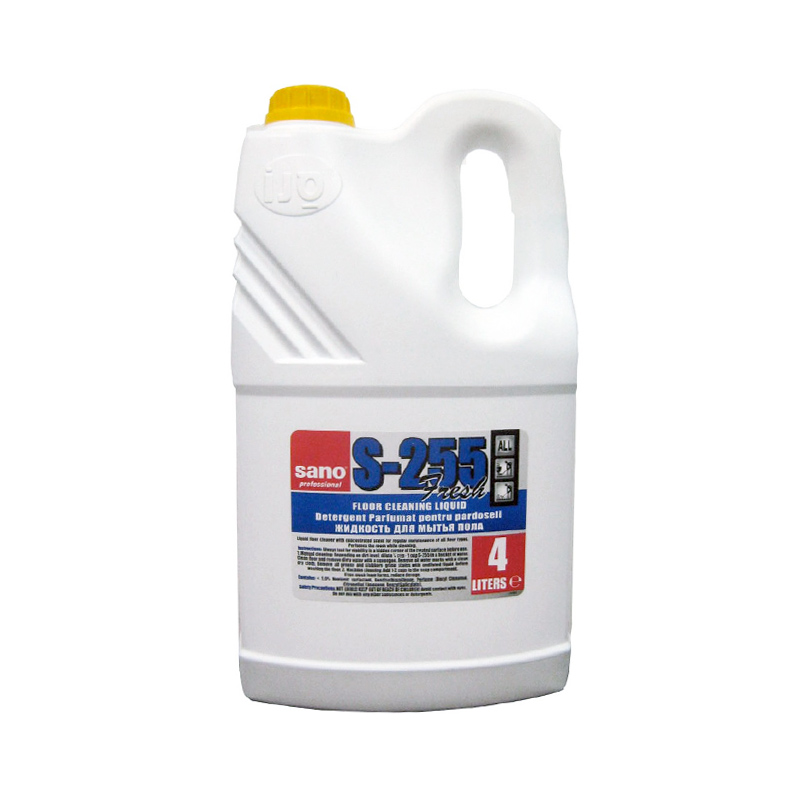 SANO S-255 Fresh Floor cleaner 4 L
Safety sheets